We are entering the lovely season of Spring and there are various activities that you can do to celebrate.
West Coast Flowers
September is the season of flowers. With good rainfall in winter, this season the flowers on the West Coast are absolutely beautiful. Some reserves you can go to are the Blaauwberg Reserve or the West Coast National Park (the Postberg section). There are also various hiking trails you can do. Make a day of it and have a braai there, pack a picnic or have lunch: at Blaauwberg you can visit On the Rocks restaurant for a meal with a view, or head over to the Langebaan Lagoon and spend time at the well-known Geelbek restaurant. If you want to head out further, the Tankwa Karoo National Park also has some beautiful flowers. 
Babylonstoren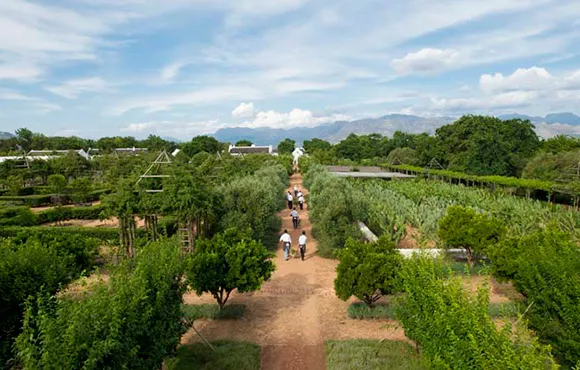 Babylonstoren's gardens are filled with blossoms – a beautiful sight. It's a great time to take a leisurely stroll through their immaculate gardens. Sit outside or in the greenhouse and enjoy a coffee or lunch.
For those with an interest in gardening and more, sign up for the various Babylonstoren workshops. For the month of September, the following workshops will be held: creating decor from your garden, how to grow asparagus, working with clivias, how to grow your own vegetables and also the basics of birdwatching. Spots are limited, so book now. 
Slow Market – Willowbridge
Although Root 44 and the Stellenbosch Slow Market are still closed, you don't have to miss out. The Willowbridge Slow Market is up and running – open Saturdays 9am – 3pm and Sundays 9am – 2pm. Buy handmade food, products and design items and support local traders – items include nut butters, smoked trout, curries, falafels, waffles and more.
A fun day out just outside of Paarl – especially with the kids. There is an Alpaca petting zoo (where you can feed the Alpacas), a coffee shop, a weaving studio and tours and walks are available. You can buy a variety of Alpaca products, such as scarves, shawls, ponchos and blankets – all woven on the farm and from the farm's own alpaca wool.
Wine tasting
It's always a good idea to spend a leisurely afternoon sipping wine on the various award-winning wine farms we have in Stellenbosch and its surrounds. Choose your favourite and support our wine industry.
#livestellenbosch #leefstellenbosch #positivity #community #socialcohesion #supportlocal #winter #supportstellenbosch #westcoastflowers #slowmarket #alpacaloom #babylonstoren
[Main photo by Arno Smit on Unsplash; Photo from www.babylonstoren.com ]
Written by C Knoesen